Formats of Radio Programs: Explained
Introduction
Radio has been a beloved medium of entertainment, information, and companionship for over a century. It has adapted and evolved with the times, offering a wide array of program formats to cater to various audiences. In this article, we will delve into the diverse formats of radio programs, highlighting their unique characteristics and the experiences they provide.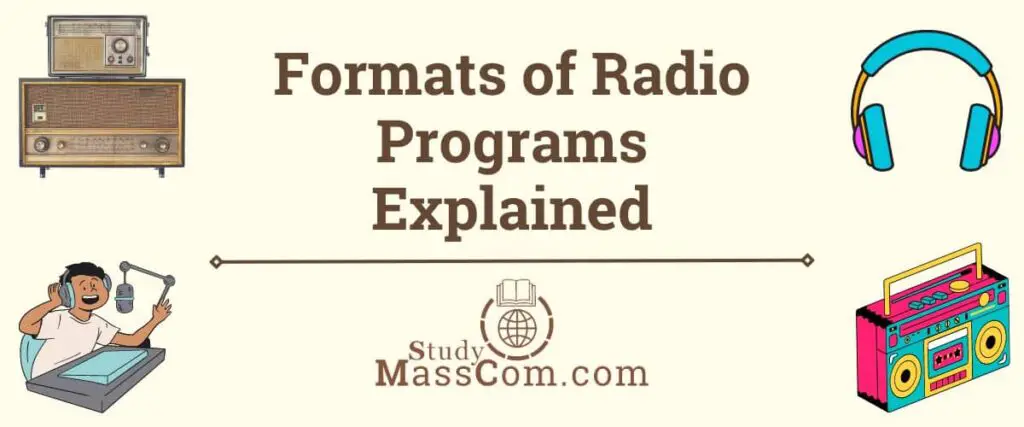 What is a Radio Programme?
A radio program refers to a scheduled broadcast or show that is aired on radio stations. It is structured and curated audio content that can encompass various formats, such as music, talk shows, news, sports, comedy, dramas, and more. Radio programs are designed to entertain, inform, engage, and connect with listeners through audio storytelling and communication. They are an integral part of radio broadcasting and offer a wide range of content to cater to diverse audience preferences and interests.


Different Formats of Radio Programs
#1 Music Programs
One of the most popular formats on radio, music programs offer a wide range of genres and styles to suit different tastes. From classical to rock, hip-hop to country, these programs focus primarily on playing music tracks, often accompanied by brief commentary, artist profiles, and song dedications. Music programs provide an avenue for listeners to discover new songs, relish familiar favorites, and connect with their preferred genres.


#2 Talk Shows
Talk shows dominate radio programming with engaging discussions and interviews. Whether it's about politics, current events, health, or lifestyle, talk shows bring experts, celebrities, and everyday people together to share their insights and opinions. Listeners can tune in to hear compelling conversations, debates, and informative discussions on various topics of interest.


#3 News and Information Programs
Radio has long been a trusted source of news, and news programs continue to be an essential format. These programs deliver up-to-date information, breaking news, weather updates, and feature stories. News programs often include interviews with experts, reporters' field reports, and segments on topics ranging from local events to global affairs, keeping listeners informed and connected.


#4 Sports Programs
Sports enthusiasts can indulge in the excitement of live broadcasts, expert analysis, and play-by-play commentary through radio sports programs. Covering a wide range of sports such as football, basketball, cricket, and more, these programs bring the thrill of the game directly to listeners' ears. They provide a platform for in-depth discussions, interviews with athletes, and updates on scores and upcoming matches.


#5 Comedy Programs
Laughter is the best medicine, and radio comedy programs specialize in bringing smiles to listeners' faces. These programs feature skits, stand-up performances, humorous storytelling, and parodies. Radio comedies provide an audio-based experience that stimulates the imagination and tickles the funny bone, offering a light-hearted escape from everyday life.


#6 Drama and Radio Plays
Before television and streaming services, radio dramas captivated audiences with their immersive storytelling. While their popularity has diminished in recent years, radio dramas and plays still find a dedicated following. These programs create vivid worlds through sound effects, voice acting, and narratives, transporting listeners into thrilling mysteries, historical adventures, and captivating tales.


Importance of Different Radio Program Formats
Different radio programs play a crucial role in serving the diverse needs and interests of listeners. Here are some key reasons why different radio programs are important:
Entertainment
Radio programs provide entertainment by offering music, comedy shows, and engaging content that can uplift moods and provide a source of enjoyment and relaxation for listeners. They offer a break from daily routines and serve as a form of escapism.


Information and News
News programs on the radio keep listeners informed about local, national, and international events. They provide updates on current affairs, weather forecasts, traffic updates, and important announcements. Information-based programs educate listeners about various topics, including health, technology, lifestyle, and more.


Cultural Preservation
Radio programs focused on cultural content, such as folk music, traditional storytelling, and language programs, play a significant role in preserving and promoting cultural heritage. They provide a platform for showcasing diverse cultural expressions and fostering a sense of pride and identity among communities.


Community Engagement
Talk shows and community-based programs encourage dialogue, discussion, and engagement among listeners. They bring people together, address local issues, and provide a platform for community members to share their opinions, concerns, and experiences. Such programs foster a sense of belonging and unity within communities.


Education and Awareness
Educational programs on the radio offer valuable learning opportunities by providing informative content on various subjects. These programs can focus on language learning, history, science, and other educational topics, reaching a wide audience, including those who may not have access to formal education.


Sports Coverage
Radio sports programs cater to sports enthusiasts who want to stay connected to their favorite teams and sporting events. These programs provide live commentary, analysis, and updates on matches, helping fans feel connected to the action even when they are unable to watch it live.


Personal Growth and Inspiration
Radio programs that feature motivational content, inspirational stories, and interviews with accomplished individuals can provide a source of inspiration and personal growth. They can offer valuable insights, life lessons, and guidance to listeners who seek personal development and self-improvement.
Overall, the importance of different radio programs lies in their ability to entertain, inform, engage, and connect with listeners across various interests and needs. They contribute to the fabric of society, offering a diverse range of content that reflects the richness of human experiences and fosters a sense of community.


Radio Program Formats: Examples
1. "The Morning Show":
A popular talk show that combines news updates, interviews with experts, discussions on current events, and segments on lifestyle and entertainment.


2. "Top 40 Countdown":
A music program that showcases the 40 most popular songs of the week across different genres, accompanied by commentary, artist profiles, and listener dedications.


3. "Sports Talk Radio":
A program dedicated to sports discussions, featuring analysis, interviews with athletes and coaches, and lively debates on various sports-related topics.


4. "Radio Drama Hour":
A weekly program that airs classic and contemporary radio dramas, including adaptations of novels, mysteries, science fiction stories, and historical plays.


5. "Health and Wellness Show":
A program focused on providing information and tips for maintaining a healthy lifestyle, featuring interviews with healthcare professionals, discussions on nutrition, exercise, mental health, and listener call-ins.


6. "Late Night Comedy Hour":
A comedy program that presents stand-up performances, humorous skits, and comedic storytelling, providing laughter and entertainment during late-night hours.


7. "Sunday Jazz Brunch":
A relaxing music program that features jazz music from various eras and sub-genres, creating a soothing ambiance for Sunday mornings.


8. "Political Roundtable":
A talk show that brings together political experts and analysts to discuss current political events, policy debates, and election coverage, offering insights into the world of politics.


9. "The Storyteller's Corner":
A program dedicated to storytelling, where narrators bring traditional folktales, fables, and contemporary short stories to life through captivating narration and sound effects.


10. "World Music Showcase":
A program that explores the diverse musical traditions from around the world, introducing listeners to different cultures and genres of music through interviews, live performances, and recordings.
These examples represent just a fraction of the numerous radio program formats available, highlighting the variety and richness of content that radio offers to its audience.


Conclusion
The world of radio programming is diverse and constantly evolving, catering to the varied interests of listeners. From music and talk shows to news, sports, comedy, and drama, each format offers a unique experience and a chance to engage with different aspects of life. Whether you seek entertainment, knowledge, companionship, or simply a break from the routine, radio programs continue to be a source of comfort and inspiration. So, tune in, explore the formats, and let the magic of radio transport you to new horizons.


FAQs
What are the different types of radio programs?
There are various types of radio programs that cater to different interests and audiences. Some common types include:

1. News and current affairs programs: These programs provide updates on local, national, and international news, as well as discuss current events and issues.

2. Music programs: These programs focus on playing different genres of music, such as pop, rock, classical, jazz, country, and more. They may also feature interviews with musicians and discussions about music-related topics.

3. Talk shows: These programs typically involve hosts and guests engaging in conversations about specific topics, such as politics, sports, lifestyle, or entertainment. Listeners can participate by calling in or sending messages.

4. Sports programs: These programs cover sporting events, provide analysis, and discuss sports-related news, scores, and statistics. They may include live commentary and interviews with athletes and experts.

5. Comedy programs: These programs are dedicated to entertaining listeners through humor, sketches, jokes, and comedic performances.

6. Educational programs: These programs focus on providing educational content, ranging from language learning and history to science, health, and personal development.

7. Storytelling programs: These programs feature storytelling in various forms, including dramas, audiobooks, radio plays, and serialized fiction.

8. Religious and spiritual programs: These programs cater to religious or spiritual communities and often include sermons, discussions, prayers, and religious music.

These are just a few examples, and radio programs can vary widely depending on the target audience and the specific goals of the station.
What are the major three components of a radio program?
The major three components of a radio program are:

1. Content: The content is the substance or material of the radio program. It includes the topics, themes, stories, interviews, music, or any other elements that make up the program's subject matter. The content is carefully selected and prepared to engage the audience and fulfill the program's objectives.

2. Host or Presenter: The host or presenter is the person who leads and guides the radio program. They are responsible for delivering the content, interacting with guests or callers, conducting interviews, providing commentary, and maintaining the flow of the program. The host's personality, communication skills, and ability to connect with the audience play a significant role in the success of the program.

3. Production and Technical Aspects: The production and technical aspects of a radio program involve the behind-the-scenes work required to make the program broadcast-ready. This includes activities such as scriptwriting, research, audio editing, sound mixing, choosing appropriate music or sound effects, and ensuring proper audio quality. Additionally, technical aspects involve operating the broadcasting equipment, managing sound levels, and coordinating live elements like phone calls or remote broadcasts.

These three components work together to create a cohesive and engaging radio program that informs, entertains, or educates the listeners.
What is a radio feature?
A radio feature refers to a specialized program segment or production that focuses on a specific topic, theme, or story. It is typically a longer and more in-depth segment compared to regular programming. Radio features are designed to provide in-depth exploration, analysis, or storytelling on a particular subject.

A radio feature can take various forms, depending on the content and style of the program. It may involve interviews with experts or individuals related to the topic, documentary-style storytelling, investigative reporting, narrative storytelling, or a combination of these approaches.

Radio features often aim to engage listeners by delving into unique perspectives, uncovering untold stories, providing detailed analysis, or offering a comprehensive understanding of a particular subject. They may cover a wide range of topics, such as social issues, cultural phenomena, historical events, scientific discoveries, personal narratives, or any subject of interest that deserves deeper exploration.

Radio features can be an effective way to captivate listeners, evoke emotions, stimulate critical thinking, and offer a more nuanced understanding of complex issues. They add depth and variety to radio programming, allowing for a more diverse range of content and engaging storytelling.
Which radio station format has listeners with the highest average income?
Determining the radio station format with the highest average income listeners can be challenging as it can vary based on demographics, geographic location, and other factors. However, certain radio station formats tend to attract audiences with higher average incomes. Some formats often associated with higher-income listeners include:

1. News and Talk Radio: News and talk radio formats tend to attract educated and affluent listeners who are interested in current affairs, politics, and intellectual discussions.

2. Classical Music and Fine Arts Radio: Stations that specialize in classical music, opera, and other fine arts programming often attract a more affluent and educated audience interested in cultural pursuits.

3. Jazz and Blues Radio: Jazz and blues stations may attract a more discerning and affluent audience with a taste for sophisticated music genres.

4. Public Radio: Public radio stations, particularly those that offer a mix of news, talk, and cultural programming, tend to have listeners who are well-educated and have higher incomes.

It's important to note that these are general trends, and the actual income levels of radio listeners can vary significantly. Radio audiences are diverse, and there will always be exceptions to these generalizations. Additionally, other factors, such as the specific market and competition, can influence the income demographics of radio station listeners.