Broadcast Journalism vs. Print Journalism
Journalism plays a pivotal role in shaping public opinion, disseminating information, and holding those in power accountable. Over the years, journalism has evolved significantly, adapting to changing technologies and consumer preferences. Two primary branches of journalism have stood the test of time: broadcast journalism and print journalism. Both mediums serve different purposes, audiences, and formats, each having its strengths and weaknesses. In this comparison, we will delve into the fundamental differences between broadcast journalism and print journalism, analyzing their historical development, current status, and potential future trajectories.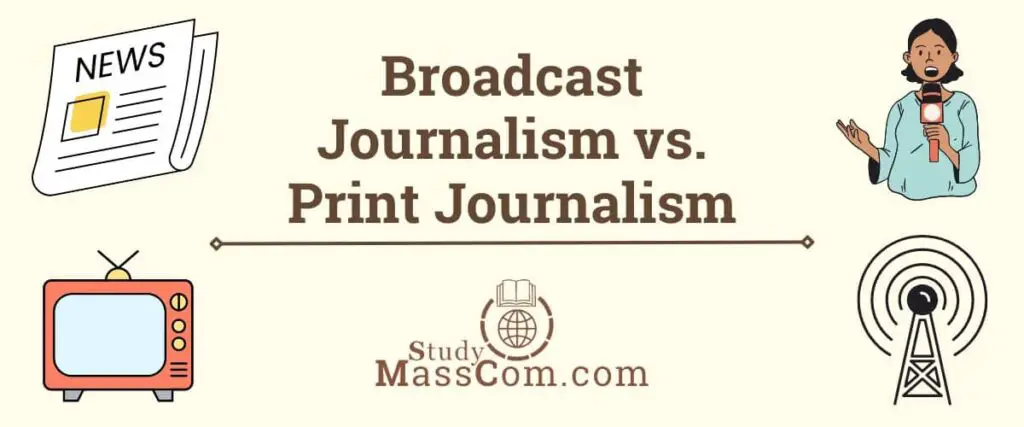 Historical Development
Print Journalism
Print journalism traces its roots back to the invention of the printing press in the 15th century. The development of movable type by Johannes Gutenberg revolutionized the dissemination of information, leading to the publication of the first newspapers in the early 17th century. Print journalism flourished during the Enlightenment period, providing a platform for intellectuals to share their ideas and opinions. Over time, newspapers became the primary source of news for the public, playing a crucial role in shaping public discourse.


Broadcast Journalism
The emergence of broadcast journalism can be attributed to the technological advancements of the 20th century. The first radio broadcast took place in the 1920s, followed by the introduction of television in the 1940s. These innovations enabled the transmission of news and information to a vast audience in real time, significantly expanding the reach of journalism. Broadcast journalism rapidly gained popularity due to its immediacy and visual impact, providing a new dimension to storytelling and news reporting.


Medium and Format
Print Journalism
Print journalism encompasses newspapers, magazines, and other periodicals. The format is text-based, relying on the written word to convey information and stories. News articles in print are typically longer and more detailed, allowing for in-depth reporting and analysis. Print media often includes photographs and illustrations to supplement the written content. The physical nature of print publications allows for easy archiving and reference, contributing to their enduring value.


Broadcast Journalism
Broadcast journalism includes radio and television as the primary mediums. The format is audio-visual, combining spoken word with visuals, including video footage and images. News stories in broadcast journalism are usually shorter and more concise, as the limited airtime necessitates brevity. The use of audio and visuals enhances the emotional impact of the news, enabling journalists to engage the audience on a more visceral level. Unlike print, broadcast media offers real-time updates, making it an invaluable source for breaking news.


Reach and Accessibility
Print Journalism
Before the digital age, print journalism enjoyed a monopoly as the primary source of news. Newspapers and magazines were readily available in physical form, delivered to doorsteps, or sold at newsstands. However, print journalism's reach was limited to those who had access to the publications and were willing to pay for them. Additionally, distribution challenges restricted the speed at which news could be disseminated.


Broadcast Journalism
Broadcast journalism, particularly television, revolutionized news dissemination by reaching a broader audience. Television sets became a staple in households, allowing people to access news conveniently. Radio broadcasting also provided access to news for those who lacked television sets. The immediacy of broadcast journalism made it the go-to source for breaking news and major events, becoming a part of people's daily routines.


Interactivity and Engagement
Print Journalism
Traditionally, print journalism has been a one-way communication channel, where information flows from the journalist to the reader. While some newspapers incorporated letters to the editor, the level of interactivity and engagement remained limited. Readers could express their opinions through opinion pieces or guest editorials, but the process lacked real-time interaction.


Broadcast Journalism
Broadcast journalism, particularly in recent years, has made strides in increasing interactivity and engagement. Talk shows, call-ins, and social media integration have enabled direct audience participation. Viewers can ask questions, provide feedback, and share their perspectives in real time, fostering a more dynamic relationship between journalists and their audience.


Credibility and Trust
Print Journalism
Historically, print journalism has been regarded as a more authoritative and credible source of information. Newspapers and magazines had well-established editorial processes, fact-checking, and adherence to journalistic standards. Readers tended to trust the written word, considering it a reliable source of news.


Broadcast Journalism
The credibility of broadcast journalism has faced challenges due to concerns about sensationalism, bias, and the speed at which news is reported. Breaking news situations often lead to incomplete or inaccurate information being disseminated. However, reputable broadcast news outlets invest heavily in journalistic integrity, fact-checking, and investigative reporting to maintain credibility.


Adaptation to Digital Age
Print Journalism
The advent of the internet disrupted the traditional print journalism model. Many newspapers and magazines faced declining subscriptions and ad revenues as readers turned to online sources for news. To survive, print publications had to embrace digital platforms, creating websites and digital editions. Some adopted paywalls or subscription models, while others experimented with online advertising and sponsored content.


Broadcast Journalism
Broadcast journalism also had to adapt to the digital age. Television and radio networks began streaming their content online, catering to the growing audience consuming news on digital platforms. Social media became an essential tool for broadcast journalists to reach a wider audience and engage with viewers. However, the rise of online news has led to increased competition and challenges in maintaining traditional advertising revenues.


Role in the Digital Era
Print Journalism
Print journalism continues to have its niche in the digital era. Long-form, in-depth reporting, and analysis find a place in online publications, appealing to readers seeking a comprehensive understanding of complex issues. Many print media outlets have successfully transitioned to digital-first strategies, leveraging multimedia elements and interactive features to enrich storytelling.


Broadcast Journalism
Broadcast journalism has thrived in the digital era due to its ability to adapt quickly to changing trends. Video content has become increasingly popular, and news outlets have embraced live streaming and video-on-demand services. Social media platforms have become integral to broadcasting news updates, engaging with the audience, and promoting content.
Learn about the impact and consequences of yellow journalism.


Conclusion
Broadcast journalism and print journalism are distinct branches of the journalistic profession, each with its unique characteristics and value propositions. While print journalism has a history rooted in the written word and in-depth reporting, broadcast journalism's strengths lie in immediacy, audio-visual impact, and interactivity. Both mediums have undergone significant transformations to adapt to the digital age, and while they have faced challenges, they continue to play crucial roles in the contemporary media landscape.
In the ever-changing media landscape, the future of both broadcast and print journalism lies in their ability to embrace technological advancements, maintain journalistic integrity, and cater to the preferences and needs of their audiences. As new technologies emerge and consumer behaviors evolve, the core principles of journalism, such as accuracy, objectivity, and the pursuit of truth, will remain paramount, ensuring that both broadcast and print journalism continue to fulfill their vital societal functions.


FAQs
What is the main difference between broadcast journalism and print journalism?
The main difference between broadcast journalism and print journalism lies in their medium and format. Broadcast journalism uses audio-visual means, such as radio and television, to deliver news and stories, relying on spoken word and visuals to engage the audience. In contrast, print journalism is text-based, disseminated through newspapers, magazines, and other periodicals, employing the written word to convey information and in-depth reporting. The choice of medium significantly impacts the style, reach, and interactivity of each form of journalism, making them distinct in how they deliver news to their audiences.
What is better, broadcast journalism or print journalism?
The question of whether broadcast journalism is better than print journalism or vice versa is subjective and depends on various factors, including individual preferences, the nature of the news story, and the target audience. Both forms of journalism have their strengths and weaknesses. Broadcast journalism excels in delivering immediate and visually impactful news, engaging a broader audience through audio-visual storytelling. On the other hand, print journalism offers more in-depth analysis and allows for comprehensive reporting. Ultimately, the effectiveness of each medium depends on the context and the specific goals of the news organization and its journalists.